Many organisations now send business documents by email or perhaps even by post.
There is still one major problem, someone has to manually handle those documents at the other end.
What If you could change that?
Imagine a situation where you can receive orders from your customers and they are automatically entered into your IT system for checking and processing.
Imagine if you could process your suppliers invoices automatically without having to rekey them or check them.
EDI allows you to do this and more.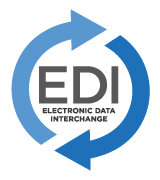 Save you money by reducing handling costs.
Make you more efficient by fully automating your order / invoicing / approval processes
Give you greater control over the day to day processes in your business.
Give you access to even more information about what is happening in your supply chain
EDI isn't simply for large organisations and it is not simply restricted to Orders and Invoices.
So, if you would like to know more about EDI or if you already have an EDI system and would like to get more from EDI, lets' talk!